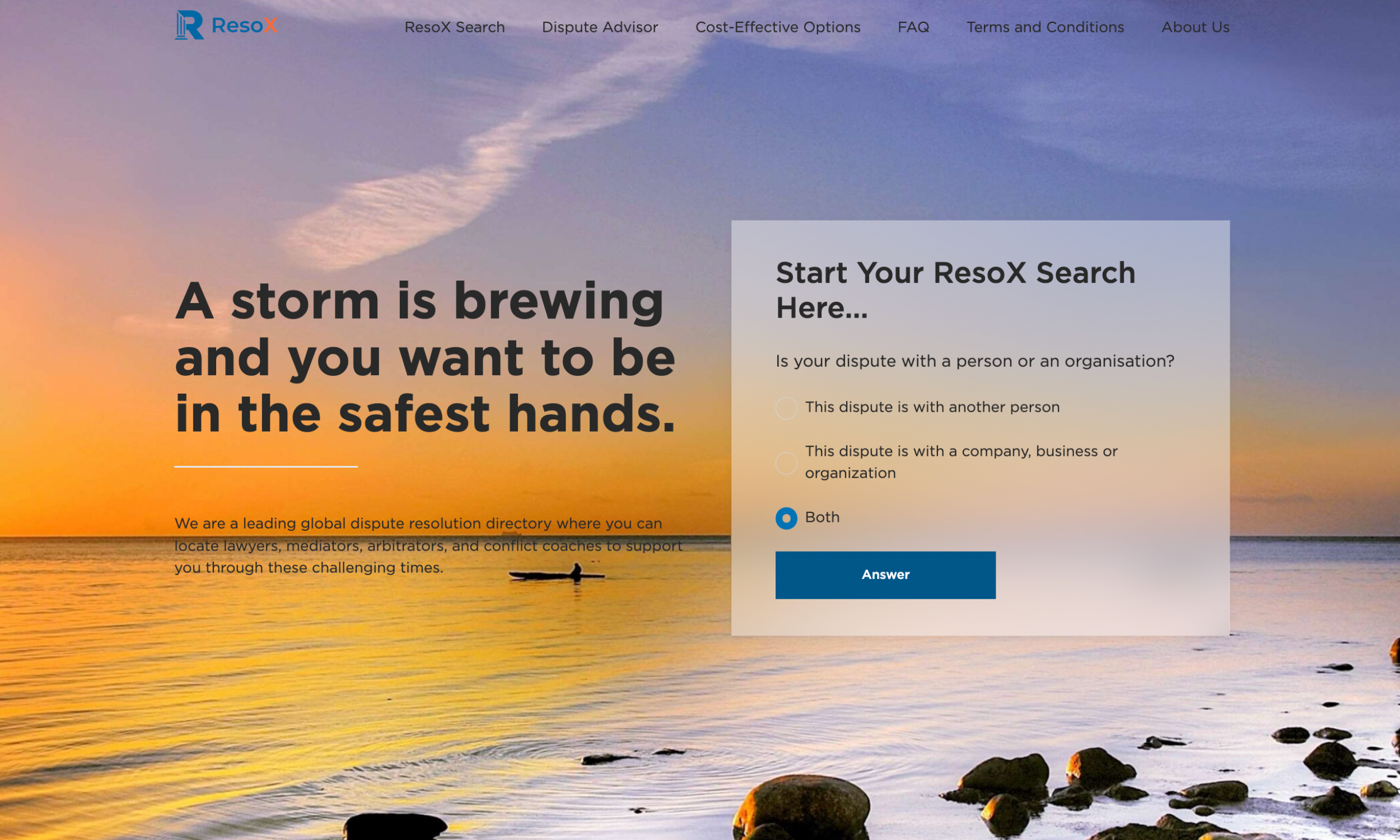 Press Release
28 February 2022
Dispute Resolution Platform Designed for Businesses, Families and General Public
Introduction -Press Release
ResoX joins the legal tech start-up industry as a free for use global online dispute resolution platform. It provides disputants with information and guidance when faced with a dispute you can also find a lawyer here; as well as connects disputants easily with compatible dispute resolution professionals (DRPs) whom they can choose to engage.
The First Stop When Facing a Dispute
Small and medium businesses, troubled families, and the common man on the street are often distressed when faced with a brewing dispute. If they choose ResoX as their first stop, they will benefit from 3 basic features. First, ResoX Search simplifies the process of looking for suitable DRPs using a robust search algorithm. Second, ResoX Dispute Advisor gently assists disputants to consider the appropriate dispute resolution processes (negotiation, mediation, arbitration, litigation). Third, ResoX cost-effective options page summarises a country's institutions and schemes that offer low-cost or subsidised rates for dispute resolution.
In the past 3 weeks of DRP membership registration, ResoX has gotten the vote of confidence from a group of Singapore lawyers, mediators, arbitrators and conflict coaches, most of whom have been active in collaborative problem-solving for most of their careers. A number of reputable international mediators have also signed up. Co-founders Linda Heng and Colin Millward are confident of the value this versatile group of DRPs can bring to disputants.
Ms Linda Heng, co-founder and CEO says, "People embroiled in disputes find themselves on an emotional rollercoaster and would appreciate a reasoned, impartial but empathetic guiding hand to help them navigate through the rough waters ahead. With rapid digitalisation and online consumer trends, ResoX aims to be that first port of call for disputants to look for professional help easily, so as to reach resolution efficiently and cost-effectively."
Future development plans include integrating online dispute resolution functions, as well as other legal technology plug-ins. ResoX hopes to be a complementary platform to the many e-commerce sites available today. It is the founders' vision to develop this platform first in Singapore, an international dispute resolution hub, before rolling out to regional countries and beyond.
Soft Launch Invitation
ResoX Beta version will go live 2 March around 5:30 pm. We have organized a soft launch event at 5pm and have the privilege of having Mr. Douglas Foo, President of Singapore Manufacturing Federation and Vice Chairman of Singapore Business Federation, share a few words. The half hour online event via Zoom will be attended by DRPs mostly from Singapore, friends from various industries, a few overseas guests,  as well as law students from NUS, SMU and SUSS.
We would like to extend the invitation to members of the press, industry leaders and influencers. For Zoom details of the soft launch or a guided demonstration of the platform, please write to Ms Jamie Chan at [email protected].
About the Founders
Using their own seed capital, ResoX is founded by Ms Linda Heng and Mr Colin Millward. Both are principal mediators with the Singapore Mediation Centre and have been passionately peacemaking for the past 15 years.
Address: Level 24, Capita Green, 138 Market Street, Singapore 048946
Tel: +65 6679 6045
3 March 2022
ResoX is now live!
If you're facing a dispute, or know of someone who needs guidance and information on how to contact dispute resolution professionals, please visit us at www.resox.com. It is free to use.
If you're a lawyer, mediator, arbitrator or conflict coach, passionate about collaborative problem solving for cost-effective resolutions, do consider listing with us.
ResoX is very much a work in progress and our team appreciates enquiries and feedback, please email us at [email protected]. Colin Millward, Jamie Chan and I look forward to hearing from you.
To mark the occasion, we hosted a soft launch event via Zoom yesterday and were privileged to have many distinguished guests with us. Wei Lin KweeGregory Vijayendran Ahmad Nizam Abbas, PBM Kok Eng Lee Eng Wah YongAhmad Nizam Abbas, PBM Aye Cheng Shone Viviene Sandhu Ahmad Nizam Abbas, PBM Lee Lee Ng Alan Limbury Chris Pitts Lynette Lim
Please watch the slighted edited video below to hear Mr. Douglas Foo's message (8min mark).
2 April 2022
"If you are not embarrassed by the first version of your product, you've launched too late." Reid Hoffman, Founder of LinkedIn
Dear LinkedIn colleagues, I am posting as a number of folks here have asked me to keep them updated on our progress.
A month ago, we soft launched ResoX platform (i.e.Resolution Exchange) amidst the backdrop of war and a crippled technical team. Despite that, Colin and I are heartened by the reception – not only from the show of support from reputable dispute resolution professionals (DRPs) by joining us at this very early stage; but also post-launch which saw interested parties around the world reaching out to us.
The activities these past month have been varied:
– We have had to establish a a new primary technical team and working on ensuring we have backup teams in case of unforeseen circumstances.
– In view of future scalability, we have upgraded our backend servers, and consolidated our website address and email domains to resox.com. Please note that the new platform address is now https://www.resox.com. But please continue to address us as Reso X, short for Resolution Exchange : )
– We have begun the process of protecting our IP rights and will be setting up a robust corporate structure for operations / fund-raising purposes.
– We have put together a list of iterations to improve the current platform, and begin our plans for the next phase of development to incorporate more tech plug-ins.
– We started a google ad campaign and will be working hard to refine our digital marketing efforts to increase online presence.
– We have approached fund raising entities to discuss pre-seed fundraising round.
– We have had and have more upcoming meetings to develop partnerships with businesses and public sector stakeholders.
– We have sent out feelers for partnerships in Australia, Malaysia, Cambodia, Vietnam, Taiwan, UK and Israel, hoping to secure like-minded partners who may either want to plug into a global network, or develop ResoX for their local markets.
It is clear to me that we have created intrigue in those who are aware that the post-pandemic era will be remarkably different from the past. The dispute resolution industry needs to keep up with the emerging global platform of professional services (doctors, accountants, software developers etc) that cut across geographical borders and circumvent traditional ways of operating.
More importantly, user-centric platforms will allow market forces to determine the most valued and cost-effective options, a social impact we wish to make.
If you're interested to know more or to discuss how we may collaborate, do check out our site at www.resox.com or email me at [email protected].
You may also view our soft-launch video at: https://youtu.be/OOY8vzrt-wk